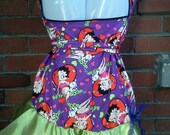 Get Cleaning and Enjoy Sexy Fun
Naughty Girl Apron, Open bust area makes cleaning time fun time.
Turn your mans head with this sexy apron, you will get his attention :)
Make cleaning fun again
Shown here in a Betty Boop print with green satin trim on the bottom.
Sexy Lingerie, For all you naughty girls
:)
Can be made in size xs-xl
order your today
Click Here to Visit My Etsy Shop!